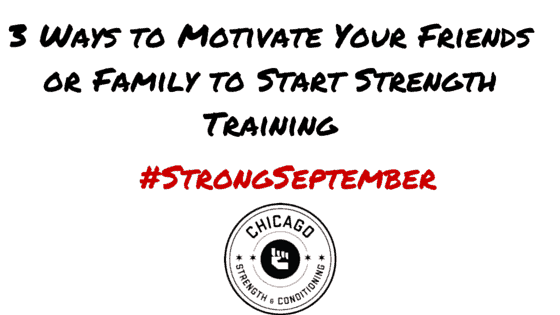 Last month Mark Rippetoe of Starting Strength started a thread in a forum challenging people in the strength training community to get the people in their everyday lives started on a strength training program. Somewhere along the way Jordan Feigenbaum of Barbell Medicine dubbed September as Strength Month to follow-up on that challenge. I couldn't agree more.
Those of us that have taken the time to educate ourselves on strength training and follow a strength training program know the many benefits it provides. When people in our lives hear about our success or perhaps about the amount of weight we lift, they sometimes shake their head and occasionally call us crazy. What they really mean is that they can't ever imagine themselves being able to do the same; and as we all know that's rarely true. Almost everyone at any age or background can benefit from strength training but if you're reading this I'm preaching to the choir, right?  This knowledge we have about what strength training provides can at times be a curse, especially when it comes to our friends and family. It's hard to watch the people you care about be in pain and it sucks even worse when you know what they could do to help stop the pain…if only they would try or be consistent about their efforts. What can we do? There's no silver bullet for this (sorry) but I've compiled some suggestions of how you can get some strength training into the life of your friend or family member.
1.Tag Team Training
Some people simply train better when someone else in the same boat is training with them. Maybe it's your parents, your grandparents, your friends…whoever! Figure out who would be willing to take the plunge into strength training with someone else. Having that other person there will help keep your new trainees more accountable and add a more social element to the process.
2. Tell Them to Wear What They're Wearing
I'm not getting any endorsements from Nike or Under Armour any time soon with this point but it needs to be made.
People get it into their head that they have to have special workout clothes but when they''re just starting it's more important to simply start no matter what. As long as they can move in the clothes they're wearing it really doesn't matter. I've seen guys come into the gym at lunch and tuck in their tie and sit on the leg press with their dress shoes on because they only have 30 minutes until they have to get back to work.
I myself have forgotten gym shorts and ended up benching in cargo shorts. I've also seen people deadlift and bench press in work clothes…just don't try squatting in nice pants. Ask me how I know.
3. Pick an Event to Prepare for Together
This is the oldest trick in the book but it's probably one of the most reliable. The trickiest part about this is getting the person to actually commit to the event but as soon as you get the okay from your chosen person sign them up! Don't wait for them to register or sign up because if you do it's less likely to happen. People like working towards and meeting goals. Having a timeframe for when they are supposed to accomplish something is easier on the psyche. It's the difference between saying to someone, "Just start saving money because you know you really should," and "Save $50 a  month for six months and then you can buy that iPhone you wanted." It gives them purpose. Participating and preparing for an event will also provide some nice QT for you and your friend or family member. The old saying of, "Those who play together stay together" comes to mind.
There are so many events out there and all can benefit from having strength training. Try to expose them to as many formats and options as possible because chances are what excites you might not be what excites them and you really want them to be excited.
Try to get at least one person that you care about into a strength training program this month and use the hashtag #StrongSeptember in your social media posts so we can keep up with you and vice versa.
What tips do you have for getting friends and family motivated about strength training?