After realizing the many awesome benefits of strength training such as, an increase in muscle tone, bone density and balance, you've decided to start a strength training program. Congratulations, you've made a wise choice. Now for the hard part: getting started. Similar to most health and fitness programs it can seem overwhelming to begin. My goal today is to walk you through the process of how to start a strength training program.  The system I use is called Starting Strength.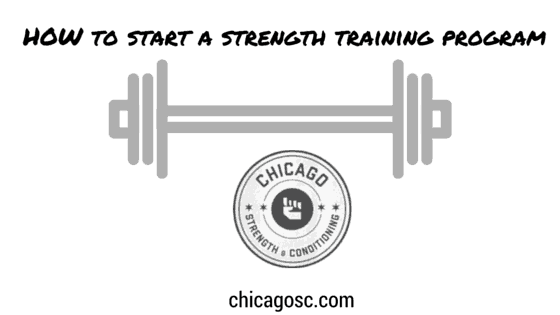 What is Starting Strength?
The Starting Strength system is a trademarked name that is pioneered by Mark Rippetoe. The main principles of his systems are "Basic Barbell Training" using, you guessed it, barbells. I like his system because it capitalizes on how the human physiologically bears and adapts to weight under stress or load. To sum it up in a word: it's efficient. In Rippetoe's 3rd Edition of Starting Strength he states, "Properly performed, full-range-of-motion barbell exercises are essentially the functional expression of human skeletal and muscular anatomy under a load." That means that the barbell is simulating what the human body would do if it were to lift a heavy object. Machines which can look fancy and are what the exercising public perceives as the "norm" when it comes to gyms usually isolate one muscle group. In everyday life you'd never use your quadriceps without the hamstrings firing as well. The body is balanced and muscles are utilized as a group to protect a joint. If you're interested in reading more about this I recommend purchasing Starting Strength by Mark Rippetoe for more info. I'm confident you'll be convinced after reading this book.
Step 1: Hire a Coach or a Trainer
I suppose anyone can dance but most people that want to become good dancers find instruction to show them how to properly dance. Strength training shouldn't be any different. The most common and perilous mistake people make is using barbells with improper form. This can be dangerous and cause serious injury. You must learn the proper technique for a strength training program to work. Hire a coach or trainer to teach you the proper form but also watch you as you lift. If you break form a coach or trainer will let you know.
Step 2: Determine Frequency and Duration (How Often and How Long) You're Willing to Commit
Frequency and duration are an important part of the equation. You'll need to find the answer to this first and foremost to ensure that you have the proper time to truly dedicate to your strength training program to see results. In general I like to see people lifting for 3 days a week for at least 45-60 minutes per session. Not all strength training coaches are the same so make sure to do your homework before you begin.
Step 3: Types of Exercises You Can Expect to Perform
A lot of the anxiety people who are just starting a strength training program experience comes from the unknown. "What will I be doing?" they wonder. Let's alleviate that fear right now by spelling out the 4 basic lifts. Again all coaches are different but the 4 basic lifts I have my clients use are:
Squat
Press
Deadlift
Bench
Step 4: Determine Your Starting Weight
One of the most frequent questions I get asked by beginners is, "What weight do I start at?" Most people get this part wrong by starting at a weight too heavy or too light. It never hurts to be too conservative, but it can easily derail progress if you start too high. A lot of novices, men especially, want to start at something way higher than they should. This is when it is especially helpful to have a Starting Strength Coach to supervise and interpret your lifting.
For example let's say a 37-year-old female who is 5'4" and weighs 110 lbs wants to start a strength training program. Using the squat in this example, the first thing I would do is make sure she could physically get below parallel with no barbell. After about 10 minutes of instruction on the lift (where we cover: bar placement, grip position, stance, visual focal point, and "hip drive"), I'd have her demonstrate with a set of 5 reps on the empty bar (which is typically 45 lb.). We choose 5 reps because it is anecdotally the "sweet spot" for strength development, but also because it gives many opportunities for me as a coach to see her movement and give her cues to adjust. Assuming her 5×45 looked good, I'd probably take her up 5-10 lb. at a time and continue doing sets of 5 until I saw the weight challenge her. Once we found a weight that challenged her for a set of 5, we'd count that as a "work set." I then would have her rest, and perform 2 more sets at that weight. Continuing with the example above here's what her first session may look like:
2x5x45 (Repeated just to familiarize herself with the movement)
5×55, 5×65 (At which point she told me 5×65 "felt hard", but it looked fine to me, so we decrease the jump in weight)
5×70, 5×75 (The bar speed began to slow a bit, and I could tell her next set would begin to compromise her form)
2x5x75
We'd repeat this exact same titration process for the remaining 3 lifts. At the end of her session let's say she got these results:
Squat: 3x5x75
Press: 3x5x45
Bench: 3x5x65
Deadlift: 1x5x115
That would be her starting point for the novice program of linear progression.
Step 5: Stay Consistent
As in any sort of health and fitness training, consistency is key. If you stay consistent and stick with the program you will get stronger. Stick with it for at least 12 weeks and you'll be pleased with your results. Stick with it for life and enjoy a higher quality of life than everyone else your age.
If you're in the Chicago area and are ready to get started on your strength training program contact me using the link below!