The following is a guest post by Natalie Cagle
It sucks being injured. It sucks even worse to refrain from workouts; especially if it's a part of your everyday release routine.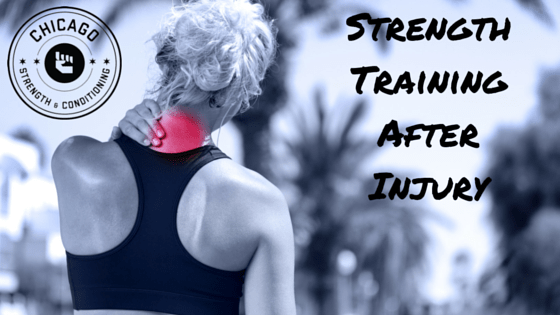 The Injury
This past July I was mountain biking in Winter Park, CO, home to some of the best mountain bike trails in the country. I climbed and ascended the trails of the Rockies without incident. It was a beautiful ride. I woke up the next morning with excruciating neck pain. I'm a 37-year-old active female and this type of neck pain has happened to me exactly twice before in my life. The pain this time was worse, a lot worse. I could barely move my neck and I couldn't get comfortable no matter what I tried. I had a good idea that the pain I was feeling was originating from nerve issues rather than muscle. After weeks of ibuprofen, not being able to sleep, trips to the chiropractor and a massage therapist I finally was persuaded to see an orthopedic surgeon when my left arm began to tingle with pins and needle feelings. Not good. My left forearm was so sore and fatigued from muscle spasm it literally hurt simply touching it. When I finally saw the doctor it had been six weeks since I had exercised, a new record for me.
The Diagnosis
 The diagnosis? Spinal stenosis. Basically, I have a neck with cervical vertebrae that have degenerated much, much earlier than they should. The mountain biking somehow had triggered an acute flare up but they had been degenerating for a long time.
I'll never be able to stop the process of degeneration and I've since learned that if you looked at everyone's neck and spine over the age of 40 you'd find compression/degeneration of the vertebrae or bulged discs to some degree. Most people don't have any pain with any of this and don't realize they have it. There is no cure for degeneration but you can help your body and spine with strength training. In my case if I can strengthen the serratus anterior and keep my core strong I have a chance of alleviating pain or safeguarding it from frequent flare-ups.
When you strengthen your core muscles you help stabilize the spine. Most people don't spend a lot of time on their core muscles because it hurts and is hard work! However, the fact that it hurts should be our cue that something's up. If your stomach muscles (abdominals) are weak it puts extra strain on your back muscles as they try to compensate to stabilize your spine. Our bodies are meant to be balanced and when we're not we get injured more easily. In the past I've been inconsistent about core exercises but I've had a rather rude awakening after this last injury and now am a core strength believer.
Post Injury Strength Training
It's now eight weeks post injury and I finally feel better. I'm seeing a physical therapist and she is recommending strength exercises for the serratus anterior but having me hold off on strength exercises above the head. When I'm out of the woods I plan on adding a Starting Strength System into my weekly workout routine. I've since read Mark Rippetoe's book on Starting Strength and his simple and efficient strength training system resonated well with me.
Coach David Abdemoulaie of Chicago Strength & Conditioning recommended the following for me:
Once Natalie had an OK from her doctor/PT I'd start her off cautiously with squats; particularly emphasizing proper head position and proceeding carefully. If the pain was local, I'd suggest caution. If the pain was radiating down her arm or hand I'd have her stop immediately. I'd suggest starting with the squat and would probably hold off on overhead pressing for a few more weeks. When introducing the press I might have her start with dumbbells instead of the barbell, so that she didn't have to worry about the complication of moving her head out of the way of the bar. The deadlift would be introduced carefully as well, again emphasizing posture and head position.

There's a very good chance that getting stronger with proper technique will make this go away, perhaps permanently. I'd also recommend ART work by a massage or physical therapist.
Hopefully you're reading this before you're injured. I consistently work out, inconsistently strength train and have even studied the benefits of strength training! However, nothing has hit home the importance of a consistent strength training program like this injury did.  Learn from my mistakes, trust me, you don't want to learn the hard way.