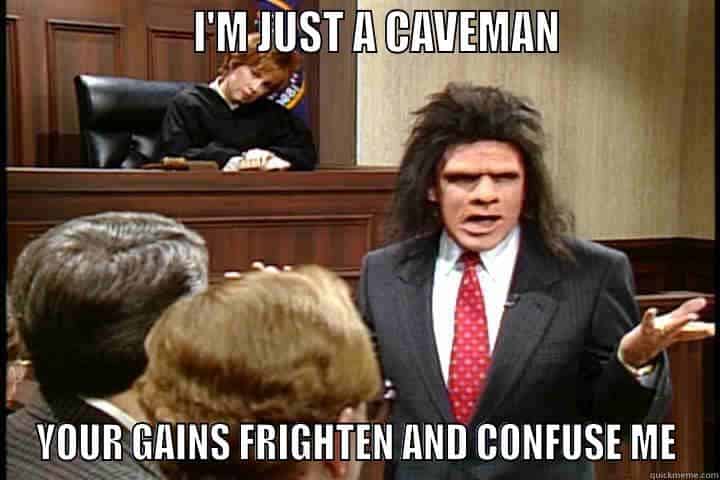 Remember those old Saturday Night Live skits with Phil Hartman as the Caveman Lawyer? He used to always say, "I'm just a caveman and your whole flashy world frightens me," right before he delivered a stereotypical lawyer statement such as, "hunting food is easier for me than hunting for a good Interior Decorator in Manhattan." Classic.
He's got a point though, at least about hunting food. Our ancestors who lived thousands of years ago had an easier time running around all day hunting and gathering food than most Americans. To them it wasn't about "exercise" it was about staying alive and the human body is built to be strong to ensure survival. In Mark Rippetoe's Book, Starting Strength: Basic Barbell Training 3rd Edition, he states, "Exercise is the thing we must do to replicate the conditions under which our physiology was – and still is – adapted, the conditions under which we are physically normal. In other words, exercise is substitute cave-man activity, the thing we need to make our bodies, and in fact our minds, normal in the 21st century."
I started to put way too much thought into this and began researching random things related to that statement, such as: what types of physical activity did cavemen do on a daily basis. I know the basics but I wanted to see if the scientific community had any more to say on this subject.
Cro-Magnon Muscle vs Neanderthal Muscle
According to my Internet research Neanderthals are a different distinct species from Cro-Magnon. There were roughly a thousand years where the two species lived during the same time. Neanderthals were much more muscular than the Cro-Magnon and had the flat brow and big head often depicted in the movies. Despite having much larger muscles, the Neanderthals were not able to compete against our ancestors the Cro-Magnon. The result was that the Cro-Magnon persisted while Neanderthals became extinct. It has been debated but commonly believed that Neanderthals were not as smart as the Cro-Magnon and lacked the ability to communicate as efficiently as our ancestors. The scientific classification for the Cro-Magnon is Homo sapiens. The word sapiens comes from the latin word, wise…so there ya go.
Cro-Magnon actually have the same DNA as modern day Homo sapiens (humans), and thanks to this thing called myoplasticity our muscles can adapt to be as strong as those of our ancestors in the Paleolithic era.
Myoplasticity or How Muscle Adapts
I stumbled onto a fascinating discussion on Physics Forum (you know, for a bit of light reading), where scientists tried to answer the question, "Why aren't all humans more muscular?" One person (scientist?) on the forum explained how all humans have the potential to gain muscle, speed, power output and endurance like our ancestors did because of myoplasticity. Another definition of myoplasticity found on the Athletic Lab is, "Myoplasticity is the ability of a muscle to change and adapt. Muscle is very adaptable, but the extent of change is limited by genetics. Any muscle changes are based on the interaction of your energy intake, hormones, recruitment, and load." There you have it, proof that you can and will get stronger if you decide to do so.
Today vs Thousands of Years Ago
Here's where people get in trouble. They think they don't need to get stronger. Who needs to be strong when you've got take-out and fast food on every corner, right? No more hunting down wooly mammoths for us. The truth is that you still sometimes have to jump out of the way, have to suddenly catch yourself, hoist yourself up onto something, turn around abruptly, strain your neck, pick up something heavy, pick yourself up, on and on. Life still demands those motions of us regardless of how advanced we think we are. And guess what? All of those movements require strength. This is why people claim that strength training is the closest thing you'll get to a "fountain of youth." Staying strong at all ages helps prepare us for life's unexpected and required movements.
If you're in the Chicago area and are ready to commit to getting stronger I'd like to help show you how. Now you know the potential to be strong is waiting inside of you waiting to be untapped.