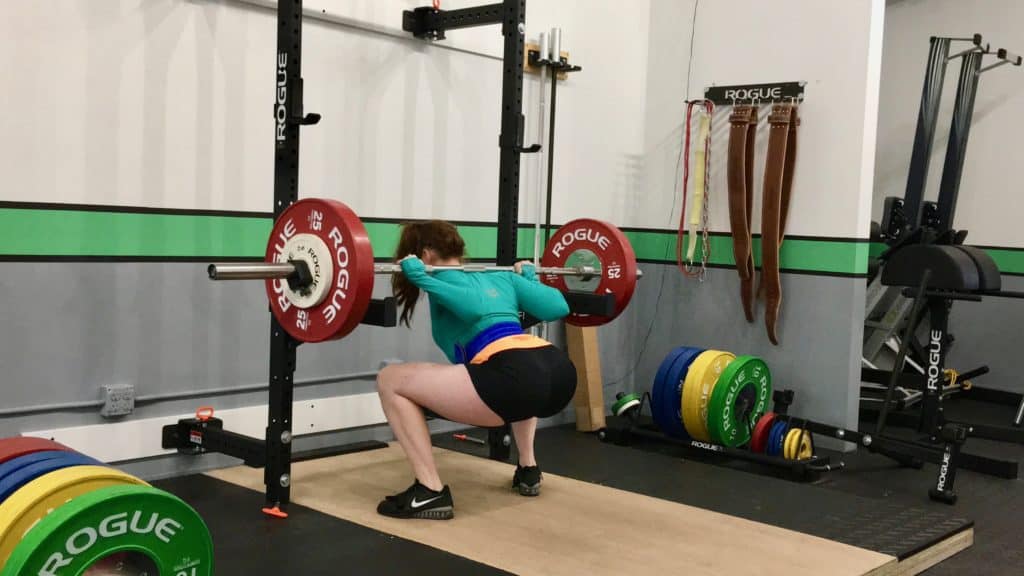 Caitlyn is one of Chicago S&C's wonderful interns and half of Chicago S&C members named Caitlyn/Katelynn. You can find Caitlyn training, interning, observing, drinking coffee, or just absorbing the good vibes of the gym pretty much every day of the week.
Beyond working on her very first novice linear progression, Caitlyn is reading and soaking up all of the barbell-related material that she can, closely watching Chicago S&C members' lifts and giving them feedback, and learning how to confidently coach the four major lifts. Caitlyn loves dogs, sushi, and sneaking early 2000s hits into the gym playlist when other coaches aren't looking and we love her sense of humor, funny faces that she makes, and endless desire to learn new things.
Please share a little about yourself
I am 25 years old and I am enrolled in a master's program at Loyola University Chicago. I moved to Chicago from Meadville, PA in January 2014 with my dachshund, Keely. I am currently interning with Chicago Strength & Conditioning so I can learn from the best and eventually become a Starting Strength Coach.
What was your exercise history before Chicago S&C?
I was a swimmer at the College of Wooster. After college, I trained for triathlons. I have been lifting since high school but gave it up after college because I didn't really know what I was doing. Once I moved to Chicago, I joined a crossfit gym and fell in love with Olympic weightlifting.
How did you find out about Chicago S&C and what was the catalyst to get you to contact us and come in for your first day?
I had been training with Coach Dave at another gym since July 2016. When Chicago S&C opened, I knew I wanted to join the best strength training community in Chicago.
What are your current personal bests for all of the lifts?
Caitlyn does not know the answer to this question because she has not had the chance to take a one rep max in a long while. As a result, Caitlyn has committed to competing in the Starting Strength Fall Classic in October of this year where she will get to show the world her awesome new one rep maxes. Go Caitlyn!
What is your favorite lift and why?
My favorite lifts are the Olympic lifts (snatch and clean and jerk) because of how technical they are. It's satisfying to nail a lift in either because it means you were able to bring everything together perfectly.
Note from the other Katelynn: I think Caitlyn's true favorite lift is the squat. I think she is the powerlifting version of Happy Gilmore who thought he was a hockey player until the very end of the movie when he finally realized he was a golfer. Caitlyn still thinks she is an Olympic lifter but really she is a powerlifter. Don't tell her I said so.
How long after starting at Chicago S&C before you noticed a difference and how has barbell training made a difference in your life?
Within the first month, I PR'ed my clean, which had been stuck for more than a year. I feel more confident in my training and my goals have shifted; now I just want to be as strong as possible and coach others to reach their strength goals as well.

In other words, Caitlyn is working on being able to do this.
Any squatting advice for me, Caitlyn?
How is strength training different than what you did before for exercise?
I have never been much for exercising. I have always trained with a goal in mind. My main goal as a swimmer was to beat my own personal best times in the 400 individual medley and the 200 butterfly, which only had an effect on my life as "Caitlyn the swimmer." Being stronger affects all aspects of my life. That is how strength training is different for me.
What would you say to someone who is unsure about starting a barbell strength training program? How would you convince a friend to get started training?
Starting a strength training program is the most empowering decision you can make. The benefits to strength training speak for themselves. My friends ask me about my workouts. I tell them that I am not working out; I am training. You have to be dedicated to see progress and if you can do that, you will. It's almost like a challenge.