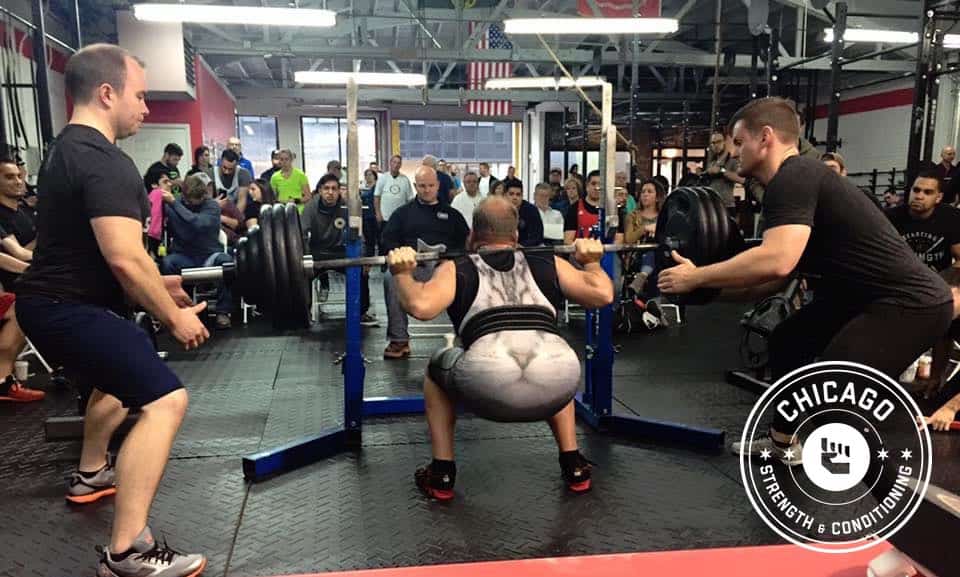 This Saturday, Oct. 24th marked the first ever Starting Strength Fall Classic (previously the October Iron Fest). Forty-eight lifters from all over the upper-Midwest (Illinois, Minnesota, Michigan, Wisconsin, Indiana, Ohio, and Iowa) traveled to Chicago to compete at Bucktown CrossFit. Meanwhile, this same weekend, at seven other gyms across the nation hundreds of lifters were competing in the same event. I am proud to be one of the few gyms selected to host this prestigious event.
Below you will find all of the results from the Chicago Starting Strength Fall Classic, but before you scroll down I'd like to show appreciation for those without whom this event would have been impossible.
Thank You
Thanks to Bucktown CrossFit for the use of their facility.
Thanks to Lance's Gym for the use of the ER-Rack. This contributed greatly to the event finishining 90-mins ahead of schedule.
Thanks to Phil Beck for the use of the sound and projection equipment. Even though I still lost my voice from talking all day, it was made far easier with the PA system and projector.
Thanks to the loaders and spotters who busted ass all day. No lifters were injured. No squats hit the ground. And the spotters themselves weren't injured despite a few lifters walking out from under their 300+ lb. squats. Thank you:

Christina Andriola
Garnett Broy
Joey Conway
Alex Murray
Jeremy Myeroff
Graeme Wilson

Thanks to the judges who shared their time and expertise. The judging was fair and efficient all day. Thank you:
John Barbaro
Dan Burke
Bill Coyne
Dave Klopp, SSC
Chris Kursko, SSC – Chris traveled from Lansing, MI to help with the event. (Black Iron Training)
Karl Schudt, SSC (Schudt Strength Training)
Thanks to Jessica Fick, my expeditor, score-keeper, lifter-wrangler, and provider of scoring-table snacks. Please donate to her fundraiser: (Relentless Detroit)
Thanks to Megan O'Mahony, for running the retail sales table, and being a wonderful partner.
Thank you to the spectators, lifters, and everyone for donating to Wade's Army
Team Results
Top 3
Bucktown CrossFit | 7 members | Score: 60
Hardware CrossFit | 5 members | Score: 44
Chicago Strength & Conditioning | 4 members | Score: 40
Overall Results
Overall winners are ranked strictly by Wilk's coefficient. No adjustment for age.
Overall Women
Top 3
(Name | Wilks | Total)
Stephanie Vetter | 356.46 Wilks | 660 lb.
Heather Monk | 345.68 Wilks | 905 lb.
Gillen Witherspoon | 339.72 Wilks | 785 lb.
Overall Men
Top 3
(Name | Wilks | Total)
Richard Fairley | 371.92 Wilks | 1335 lb.
John Laurel | 370.1 Wilks | 1420 lb.
Manveer Sadhal | 332.26 Wilks | 1235 lb.
Masters Results
Masters' Wilks score is multiplied by an age-based coefficient (McCulloch)
Masters Women
Herlinda Teach | 281.17 Wilks-Age
Jackie Weinberg | 253.55 Wilks-Age
Masters Men
Shawn Ryan | 296.29 Wilks-Age
Chris Johnson | 273.94 Wilks-Age
Bob Grant | 271.33 Wilks-Age
Phil Beck | 265.08 Wilks-Age
Download Official Results